This article is about How to download Crystal Reports for Visual Studio 2019 (VS 2019). You will also find the Crystal Reports run-time for Visual Studio 2019. The latest version of Crystal Reports (Support pack 26) now supports the Visual Studio 2019. This Release supports all the flavors of Visual Studio like Visual Studio Community, Visual Studio Professional & Visual Studio Enterprise.
The Crystal Reports for Visual Studio 2019 is also known by the name Crystal Reports Developer Edition for Visual Studio 2019. Visual Studio Installer does not install the Crystal Reports. You must download and install it separately. It is free to download and use.
Download Crystal Reports for Visual Studio 2019
There are two download links. One for Crystal Reports Developer Edition and another for Crystal Report Run time.
To Create applications using Visual Studio, you need to download and install the Crystal Reports Developer Edition for Visual Studio 2019.
To distribute the application to the client or as a web server, you need to install the Crystal Reports runtime for Visual Studio 2019
Download Latest Version of Crystal Reports
You can download the latest edition of crystal reports from the official site. Just click on the following link. The latest version available is SP26 and it runs on all editions of visual studio starting from Visual Studio 2015 up to 2019.
https://www.sap.com/cmp/td/sap-crystal-reports-visual-studio-trial.html
The above link takes you to the following web page. Click on Download software now button.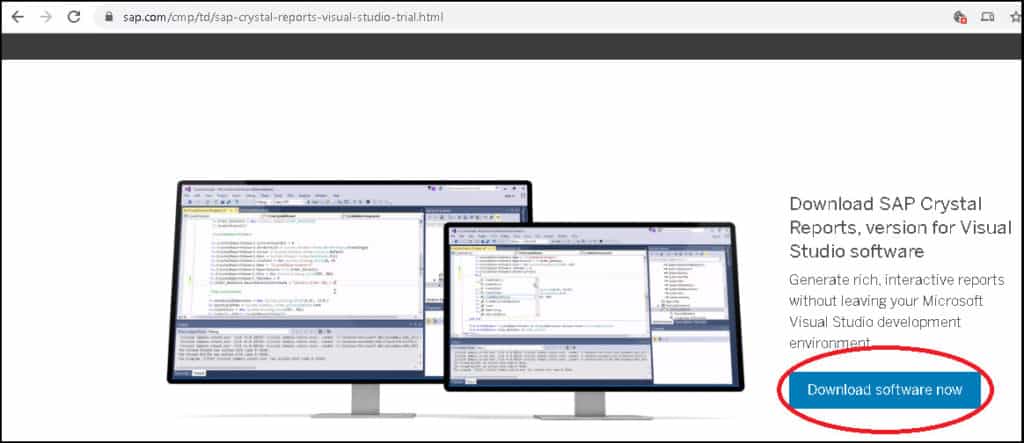 If you are arriving here for the first time, then register with them. The Registration is free and allows you to access few free stuffs along with the software. The free stuff include manuals, software downloads & accesses to Community.
If already registered, then enter your email & password to continue
Download latest version of Crystal Reports from the links as shown below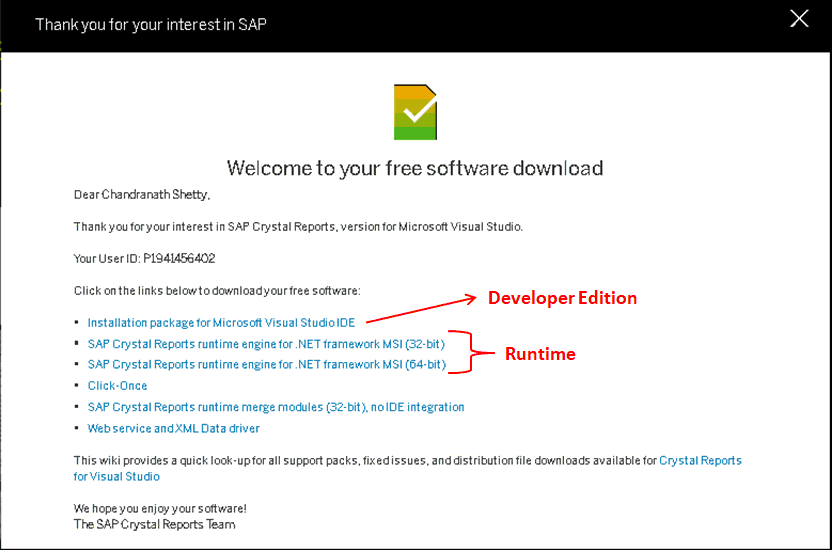 Older Edition Downloads
Crystal Reports
Version
Supported
IDE
Developer
Edition
Download
Runtime
Download
Service Pack 25
Visual Studio 2019, 2017,2015,2013,2012,2010
SP 25
32 Bit
64 Bit
Installing Crystal Reports for Visual Studio 2019
Installation is a straight forward process. Right-click on the downloaded file and click on Run as administrator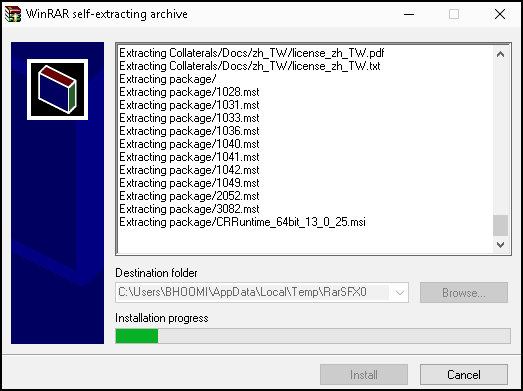 Select the language and click on OK button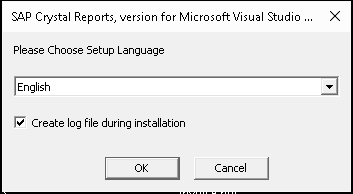 Welcome Screen. Click on Next button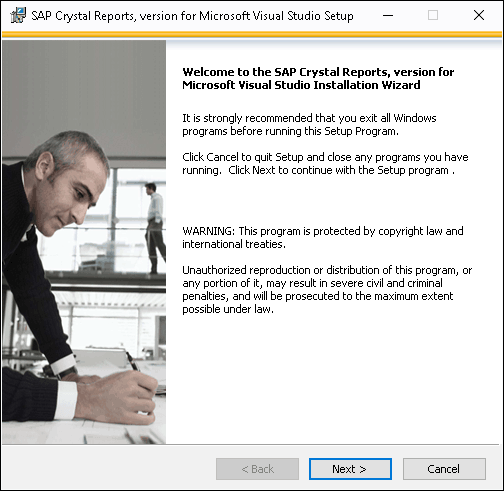 Accept License Terms and click Next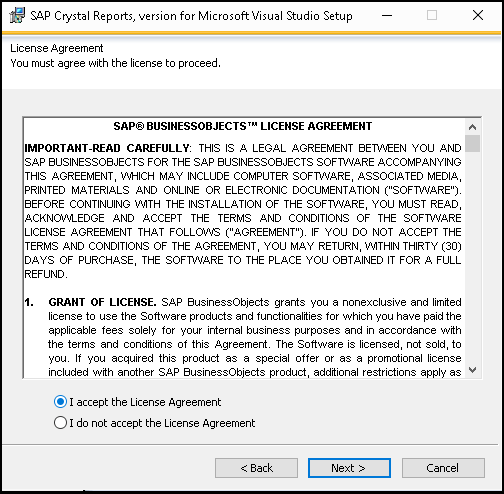 The Installer will detect the previous version automatically. The installer will upgrade it to the latest version.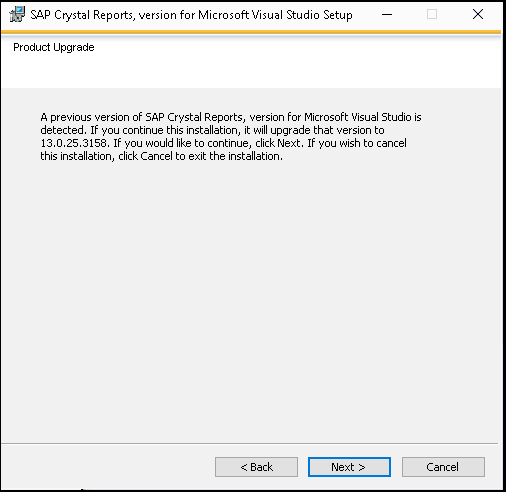 Ready to Install. Click Next to start the installation process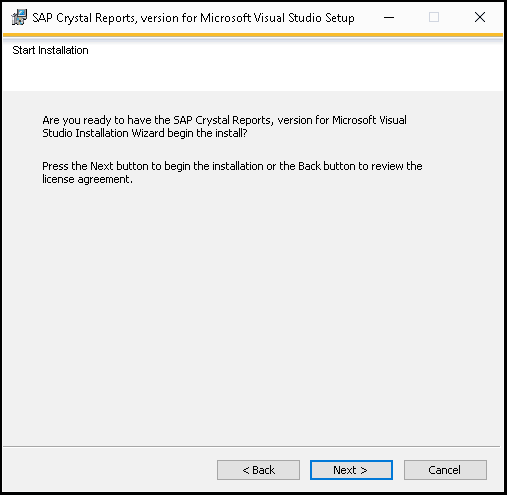 The installation will take a few minutes before completing with the following window. Before clicking on finish, you have the option of Installing the Runtime. Choose yes and then click on Finish. Another Installation window appears, which installs the Crystal Reports Runtime.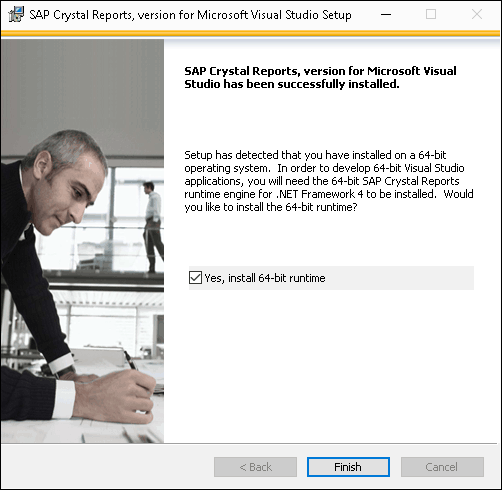 That's it. Now you open the Visual Studio 2019 and stat creating great reports.
Summary